Noie: Opportunity or overmatched? Third-ranked Maryland next up for Notre Dame
Tom Noie
South Bend Tribune
Everything and everybody seemed set for the annual 14-game challenge in early December between arguably the two best conferences — the Atlantic Coast Conference and the Big Ten — in college basketball.
Well, almost everybody.
When the matchups were revealed in early June for this week's Big Ten/ACC Challenge — or the ACC/Big Ten Challenge — one of the first questions was, who invited Notre Dame?
Well, nobody. The Irish just kind of eased their way in without an invite.
With 14 teams in the Big Ten and 15 in the ACC, it's custom for one ACC team to skip the annual event, which has been played every year since 1999. The ACC usually stipulates that the last-place team in the league from the previous year gets the following year's challenge off. The last-place team last year was Notre Dame. So no challenge this month for the Irish, right? They could use that slot for another guaranteed non-league home game. And another guaranteed win.
Instead, Notre Dame (6-1) wakes Wednesday in College Park, Md., where it faces third-ranked Maryland (8-0). How did that happen?
Notre Dame took the challenge spot — and opponent — reserved for Virginia Tech. The ACC also allows any conference team that has had an offseason coaching change (as Virginia Tech did) to determine whether it wants to participate in the challenge. Hokies coach Mike Young likely looked at his team's November schedule, which also included an opening game against then-No. 3 Michigan State at the Maui Jim Maui Invitational, and decided that playing out there and playing a road game in the challenge was too much too soon.
Virginia Tech opted out, which opted Notre Dame in. Didn't matter that it finished last a year ago. Didn't matter that it has to play the highest-ranked Big Ten team following Monday's Associated Press poll. Want to be part of the party? Here's a ticket. Use it. That's fine by Irish coach Mike Brey.
"You want to be part of it," he said Tuesday. "We've been pretty good in it. Going on the road to play these guys, it's an opportunity for you. You've got an opportunity to play on a big stage."
A stage that's basically home for Brey, a Maryland native. He grew up going to camps and games at the long-since gone Cole Field House. He knew well of Maryland, especially Maryland basketball.
"I spent so much time on (that) campus," Brey said. "You really grew up a Maryland basketball fan. There will be some interesting flashbacks."
Anytime the Irish can get back to the D.C. area, it's a bonus. That's why Brey plans to rekindle the series with former Big East colleague/rival Georgetown next season. That's why he plans to play a road game — a TRUE road game — at Howard next December.
Playing in D.C. gives the Maryland native a chance to return to his basketball roots. It gives him a chance to lay some early recruiting groundwork for an area he annually mines. It gives his team the opportunity to represent the ACC on national television in a major market.
It gives him a chance to maybe get some Ledo Pizza before the charter flight home, though he admitted on the last game visit to the area (to play Maryland in 2014) that the post-game pizza didn't taste all that good. The game, and the pie, was awful.
It also allows guys like sophomore guard Prentiss Hubb, a native of Upper Marlboro, Md., to go back and play near home, which he'll do for the first time as a collegian.
"It's going to be a really good experience," Hubb said. "It would be a big win, especially with all my family members and friends there. It would be big for anybody."
Particularly big for Hubb, who was really good in the opener against North Carolina, but just OK since. He scored a career-high 22 points with a season-high six assists that night in Chapel Hill. In the five games since, he's averaged 7.8 points and 4.1 assists.
"I think it's time," he said.
While others may look at Wednesday's matchup as likely one-sided — the Irish seemingly have little chance against THAT team — Notre Dame sees something different. It sees an opportunity to make an early statement, maybe grab an upset in a sport that's already seen its share.
Like Virginia Tech shocking Michigan State in Maui. Like Evansville stunning Kentucky at Rupp Arena. Like Stephen F. Austin dumping Duke in overtime at Cameron Indoor Stadium. It's already been a weird year for college basketball. Plenty of room for the Irish to get in on that weirdness.
Road game or not, Notre Dame's painfully overdue to secure success against a ranked team. The Irish haven't beaten a ranked team in 742 days. Not since it shocked then-No. 6 Wichita State on Nov. 22, 2017 to win the Maui Invitational. That seems like a lifetime ago for a program that's staggered through its last 16 games (including 0-8 last season) against ranked teams with losses by an average of 12.6 points.
The Irish also are 0-9 against No. 3 teams under Brey. Overmatched?
Six consecutive victories at home have given Notre Dame confidence to go back out on the road for the first time since an 11-point loss to North Carolina in the opener. The Irish played well enough that night in Chapel Hill, N.C. to compete. The Irish believe they're better equipped now to play well enough Wednesday to win. Opportunity?
They'll make more shots; they'll get more stops. They'll maybe even close.
"I'd like to see us finish one," "Brey said. "I think we're more ready to do that."
The Irish have insisted since October that this team, this season, this makeup of this roster, is different. Better.
Wednesday would be a nice time for everyone to see it.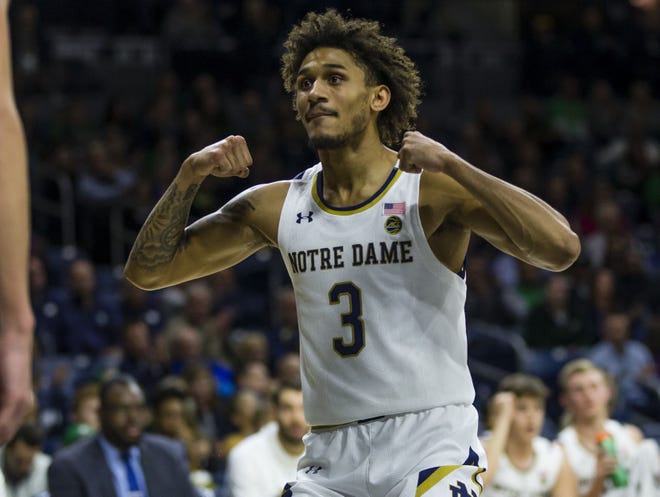 BIG TEN/ACC CHALLENGE
WHO: Notre Dame (6-1) vs. No. 3 Maryland (8-0).
WHERE: Xfinity Center (17,950), College Park, Md.
WHEN: Wednesday at 7:30 p.m.
TV: ESPN.
RADIO: WSBT (960 AM/96.1 FM).
ONLINE: Follow every Notre Dame game with live updates from Tribune beat writer Tom Noie at twitter.com@tnoieNDI
NOTING: Anthony Cowan Jr. scored 22 points and Maryland held guard Markus Howard to six points in an 84-63 victory Sunday over Marquette in the championship game of the Orlando Invitational. Darryl Morsell, who picked Maryland over Notre Dame, helped limit Howard to 1-of-12 from the field, 0-of-6 from 3. The Terrapins also beat Temple and Harvard in the Thanksgiving weekend tournament. … Maryland returns four starters off last year's team that finished 23-11 overall, 13-7 and fifth in the Big Ten. … The Terrapins have won at least 23 games four of the last five years. … They were picked this preseason in a media poll to finish second in the Big Ten behind Michigan State. … Maryland ranks fifth in the Big Ten for scoring offense (81.0 ppg), fifth in scoring defense (62.4), third in scoring margin (+18.6), ninth in field goal percentage (.452), third in field goal percentage defense (.375), 13th in field goal percentage defense (.337) and first in turnover margin (+3.5). … The Terrapins have been ranked in the Top 10 in each of the first four Associated Press polls. They opened at No. 7 … Notre Dame leads the all-time series 11-9, 3-5 on the road. Its last win at Maryland was Dec. 31, 1986 at Cole Field House. … These teams actually met once – in 2014 and at Xfinity Center – as ACC colleagues. … Maryland is 10-5 in the Big Ten/ACC Challenge, 0-5 as a member of the Big Ten. It lost last year's Challenge at home to eventual national champion Virginia. The Terps have lost six straight in the Challenge … Notre Dame is 4-2 all-time in the Big Ten/ACC Challenge, 1-2 on the road with the win at Illinois in 2015. … This marks the first time since 1976-77 that Notre Dame's first two true road games are each against Top 10 teams. The Irish started the season with a loss at No. 7 North Carolina. … Notre Dame has won six in a row, all at home, since the loss.
QUOTING: "Those six home-game wins gave us the energy that we needed to show that we're a really good team, especially going into big atmospheres. I think we thrive a lot with that. We're going to be up for the challenge."
-Notre Dame sophomore Prentiss Hubb on Wednesday's game against No. 3 Maryland.